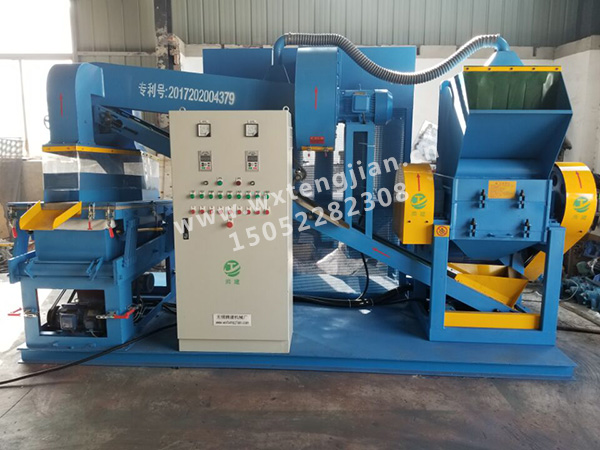 No. 1 and No. 1 Cutting Machine - need to put waste wire into the Cutting Machine by hand, although there are shortcomings of manual operation, but the operation is very simple, the output is also good.
2. Magnet conveyor-the device that transfers the waste wire from No.1 cutter to No.2 machine, and sets magnet adsorbing iron and other foreign bodies above it. It not only acts as a mover, but also stops automatically when the No. 2 pulverizer is over-saturated. It will run normally after the No. 2 pulverizer is completely digested.
No. 3 and No. 2 crusher - a device for crushing and separating the waste wires from the 1 mill to 2~3cm. This machine can crush all kinds of foreign matter on the outer skin and completely separate it from copper. A filter screen is arranged at the bottom to control the processing speed and output of different specifications of wires, and the processing capacity from fine hair to thick power cable can be achieved by changing the filter screen. The smashing chamber is operated by hydraulic pressure. It is very easy to repair and replace blades, and is also the advantage of this machine.
4. Blower-the transfer device that transfers the crushed material of No.2 crusher to the separator by wind wave and pressure.
5, the sorting machine is the core of the machinery, and it is a device to completely separate the copper from the outer skin. Although the structure is complex, it is easy to operate and easy to maintain.
6. Cloth bag dust collector-is a device that collects dust from the separator through a dust collector and blower. There are 12 filter cloth belts on the top of the device. Imported filter cloth can effectively recover dust to ensure the air around the machine.
7. Control cabinet - adjust all machines, a control device, with emergency stop, timer and other functions. The principle is PLC programmable control and each part of the machine is arranged separately with strong controllability and stability.‍