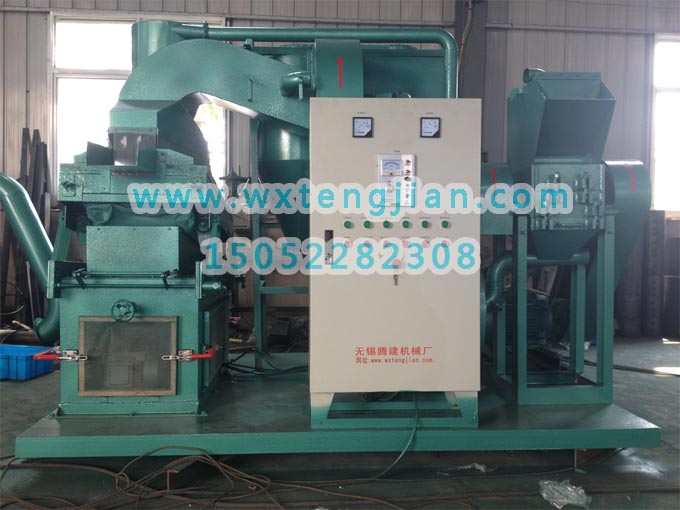 Scope and Function: For all kinds of automobile circuit, motorcycle circuit, battery car line, TV set, washing machine, refrigerator, air-conditioning and other household electrical appliances, communication line, computer wire and other unfit for processing waste wire. The whole structure of the machine can be produced by customers receiving electricity. Fully automatic crushing. Feeding. Vacuuming. Separation. Only one person to feed can be produced, advanced dust collection device, dry separation, separation of finished products can be directly sold. The aircraft is the most advanced waste line separation equipment in China.
Functions: Control System: 1: Star Triangle Starting Cabinet; 2: Motor Thermal Protection Device; 3: Delayed Starting Protection Function; 4: Vibration Automatic Control; 5: Wind Frequency Converter Control; 6: Cooling Cycle in Crusher; 7 Magnetic Separator Function
Principle: Two different densities of material under the action of wind force, after a certain angle of the screen surface for amplitude motion produced by deflection so that the density of copper wire close to the screen face out of the copper mouth forward, the density of small plastic skin floating on the copper wire flow out of the mouth. So as to achieve the purpose of separation of copper and plastic. The cleanliness is proportional to the diameter of a single copper wire. The thicker the wire is, the cleaner the separation is. The thinner the wire is, the worse the separation is.
It is easy to operate and can be fed once and after crushing. The transportation is carried out and the dry type is separated. It can effectively separate copper from plastics and achieve the purpose of comprehensive utilization. No dust and no secondary pollution, and has a higher economic efficiency of recovery, and a high-speed copper and plastic recovery process.