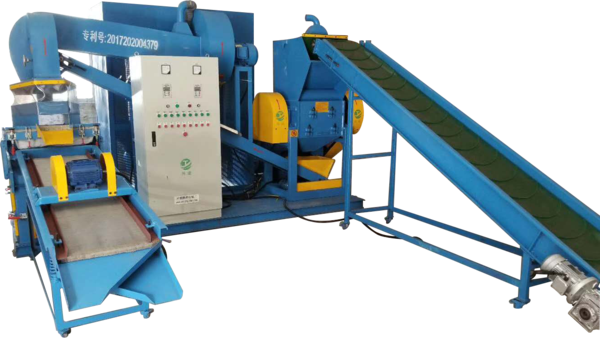 After listening to friends, tengjian's copper wire recycling machine has good separation effect, so he bought 3 sets. Your products are of stable quality, rigorous packing and good after-sales service, and will buy them next time.
The equipment is mainly equipped with: (1) electrical appliances: Guanhua motor, Schneider and Zhengtai electrical appliances; (2) different tool materials are selected according to different crushing materials: 9SiCr (alloy tool steel), SKD-11, Cr-Mo-V; (3) screen material: high quality carbon steel plate thickness 5mm (pore diameter 4-8mm).
Functions: Control system, 1. Star triangle starting cabinet, 2. Motor thermal protection device, 3. Delay starting protection function.
It is easy to operate and can be fed once and after crushing. The fan can be transported and separated by dry type. The copper and plastics can be separated completely and the purpose of comprehensive utilization can be achieved. No dust and no secondary pollution, and has a higher economic efficiency of recovery, and a high-speed copper and plastic recovery process.