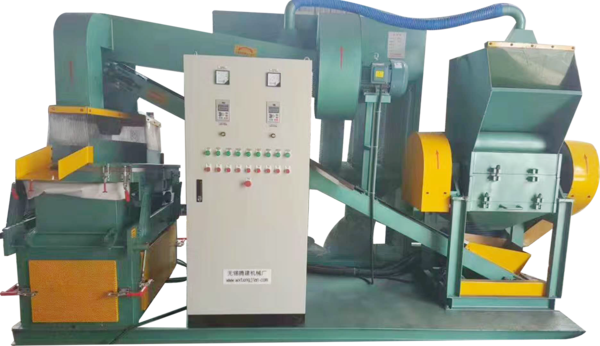 Our company has purchased 3 copper wire recycling machines in Tengjian. We pay attention to the quality control and the application of new technology. In the process of production, the quality requirements are also very strict. Therefore, we adopt the copper rice machine produced by Tengjian. The equipment is reliable in quality, the separation effect is obvious, and the performance is stable. It is unanimously recognized by the users.
This machine is characterized by no separation of the size of the wire can be powder at the same time, no washing. Copper-plastic separation reached 100%, no dust and no contamination. In addition, the overall structure of the equipment is easy to transport. Installation. Debugging [after customers buy power supply can be produced] stability is good. High output, the successful development of the machine improves the other copper-rice machine can only produce communication lines [i.e. The defect that single copper wire can not produce fine and impure wool wires solves the environmental dyeing caused by burning copper, improves the quality of copper recovery, and recycles plastic to achieve the purpose of comprehensive utilization.
It is easy to operate and can be fed once and after crushing. The fan can be transported and separated by dry type. The copper and plastics can be separated completely and the purpose of comprehensive utilization can be achieved. No dust and no secondary pollution, and has a higher economic efficiency of recovery, and a high-speed copper and plastic recovery process.